Skip to Content
Dr. Vallely Prepares for His Next International Dental Mission
Last year, Dr. Vallely and his son, Sean, were given the opportunity to travel to Darien Province in Panama to help the underprivileged with their dental needs.
This year, on October 5th, they will be donating their time and leaving for Nicaragua for their second dental mission. They will be serving the Orphan Network of Casa Bernabe in Veracruz, which is a suburb of Managua. This mission is a combined effort between the Rotary Club of Long Grove and the Rotary Club of Denver.
They are setting up a temporary clinic on the premises and will be planning to treat 300-400 people in need of dental care over the course of 4 days. A team of 5 doctors, 2 hygienists and 5 supporting team members from the United States will be participating. In addition, Local Rotary will provide more volunteers to make this a true internal mission.
To learn more about the ORPHANetwork of Casa Bernabe, view photos, or read recent blog posts, please visit their website.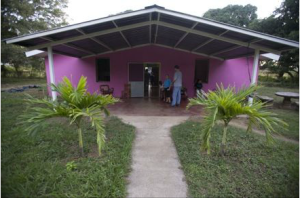 October 13, 2014 – Dr. Vallely recently returned from his trip to Nicaragua! Be sure to check back soon for photos and information about how his trip went.